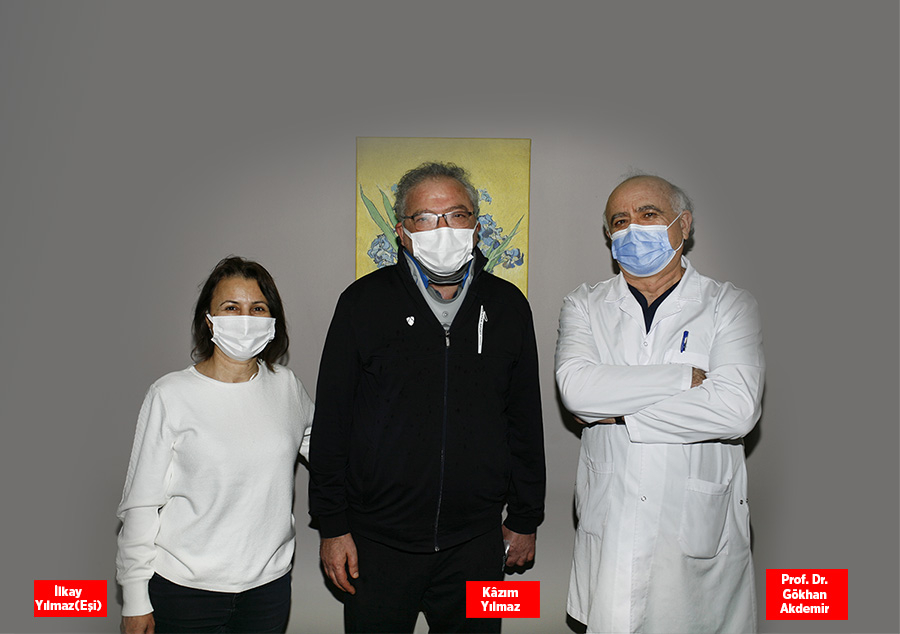 A 54-year-old patient who was in danger of paralysis due to a type of spinal cord calcification that is monitored in two out of a thousand people in the world, - has gained their health back with a tough 14-hour-long operation performed by Dr. Gökhan Akdemir with the diagnosis of ossified posterior longitudinal ligament disease.
HE USED TO FALL WHEN WALKING ON A STRAIGHT TRACK
Complaints of Kazım Yılmaz, who lives in İstanbul, who is married and has two kids, arose when he began to fall during routine walks with his wife. When Yılmaz, who suddenly stumbled and fell while walking on a straight road, experienced numbness in his left, cardiac disease was suspected. The heart functions of Yılmaz, who was immediately taken for an angiography, were normal. MRI was performed on Kazım Yılmaz, who was referred to brain and neurosurgery. It was observed in the MRI that the part of the neck from the 2nd to the 6th vertebra was severely calcified. Doctors told Yılmaz, who was facing the risk of paralysis due to the rapidly progressing neck arthritis, that the only treatment method was an operation, but the success of the operation is extremely low in such cases.
A TOUGH OPERATION
Upon this, Yılmaz family, who was in search of a good surgeon, got in touch with Türkiye Hospital Neurosurgery Specialist Prof. Dr. Gökhan Akdemir. Akdemir, who told the patient when he retained he consciousness back that the neck spinal canal, which is 15-20 millimeters, is seriously narrowed and this can be narrowed up until 5 mm if it is left without being operated, said "If not operated, calcification would further narrow the spinal canal and damage the spinal cord membrane, as a result, the patient's hand, arm, walking, balance movements would be impaired, the patient would be confined to using a wheelchair. In such patients, the operation can be performed from the neck, through the front of the neck, or both. The operation performed on the neck is more difficult, but more successful. We chose the method that is difficult as the pressure was on the front area in this patient and we performed the operation by entering from the front of the neck".
WORKED ON THE SPINE AS IT WAS A MASTERPIECE
Prof. Dr. Akdemir stated that he cleaned the narrow area and enlarged the canal, placed titanium cages and bone grafts in the empty space and fixed them with plate screws, and told the operation he performed as "Opening up the constricted spinal cord with high-speed devices and to remove the calcified spinal cord membrane might have caused the patient to become paralyzed from the neck down. Therefore, thanks to the advanced technology of our hospital,we have restored patient's health with an operation that lasted about 14 hours under spinal cord monitorization imaging technique and quality microscopes by advancing slowly."
HE WALKED AFTER 4 DAYS AND STARTED TO DRIVE AFTER 1 MONTH
Prof. Dr. Akdemir who stated that these calcifications are rarely monitored, said; "This disorder is observed more commonly with diabetes, in Asian and Japanese individuals. Even in centers such as China, USA and Japan, 10-20 cases are reported in a year. In a study conducted worldwide, we see that the success of this operation is 40-60 percent. Our patient got up on the fourth day. He completely recovered after 30 sessions of physical therapy. He was able to drive a month after the operation".